Transitional Care Unit
Russell Medical is proud to now offer a Transitional Care Unit to benefit patients. 
What is a TCU unit?
A comprehensive inpatient program for the individual who has had an acute medical or surgical event as a result of an illness, injury or exacerbation of a disease process.
What happens during your time in the TCU? 
The  program offers an outcome-focused interdisciplinary approach made up of the patient and family while utilizing a professional team including physicians, nurses, therapists, and a dietitian as needed to deliver clinical interventions (medical and/or rehabilitation).
What is the goal of the TCU?
The program is usually short term with the goal to improve and return patients to a more independent setting, typically home, or to a lower level of care.
Quick Facts about Russell Medical's Transitional Care Unit:
All rooms are private at no additional cost
24 hour RN care
Huge therapy department specializing in physical therapy, occupational therapy, and speech therapy with a variety of equipment including an ADL room
Therapy 6 days a week with highly trained on-site staff
TCU Coordinator that follows you throughout your stay and follows up with you after your graduation
Continuity of care with the hospitalist team that cares for patients in the acute stage during their hospital stays and also follows patients through their time spent in the TCU
Interdisciplinary team that works together to make sure you have the best care possible
For additional questions or requirements please contact Transitional Care Unit Coordinator, Stephanie Jones, at (256) 329-7157.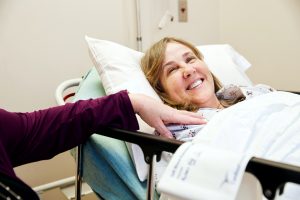 Patients: