Urgent Care
Russell Medical's newest service, Russell Medical Urgent Care is open seven days a week.  The Urgent Care is an expansion of treatment options available on the Russell Medical campus in Alexander City, AL. The Urgent Care is conveniently located behind the cancer center, easily accessed by Highway 280 (look for the large sign) or from Elkahatchee Road. The walk-in clinic treats injuries and illnesses requiring immediate care but not serious enough to require emergency room visits.
It is open seven days a week to accommodate non-emergency room emergencies. Hours are:
Monday through Friday – 8:00 a.m. – 6:00 p.m.
Saturday – 9:00 am – 3:00 pm
Sunday – 9:00 a.m. – 3:00 p.m.
The physical address is 3504 Highway 280, Alexander City, AL 35010. For additional information about the facility, call 256-397-7727.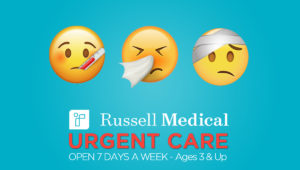 Urgent Care: